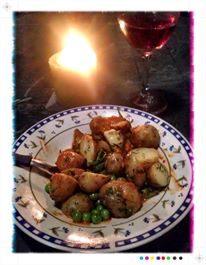 Serves 4
An accidental combination of the best kind, this dish is inspired by Salatata Batata al Tunis (Tunisian Potato Salad), and uses some of the fresh and vibrant local ingredients that I found here in Ecuador;  baby potatoes, peas , spicy red chilies and yerba Buena.  The spice mixture is a little plainer in this harissa recipe, as I used what was easy to find here and it is just as vibrant and fits perfect with the potatoes and peas.  Serve it hot or cold and with a dollop of fresh yogurt to mild out the spicy harissa.
Ingredients
1 pound baby potatoes, halved
2 teaspoons salt
1 cup fresh shelling peas, shelled
2 tablespoons cilantro, chopped
2 tablespoons extra virgin olive oil
Smoked Maldon Salt ( or regular salt)
Fresh Mint ( Yuerba Buena) Harissa ( recipe follows)
Directions
Place the baby potatoes and salt in large pot and cover with water, about 1 inch above the potatoes.  Bring to a boil and allow to gently boil for about 10 minutes or until soft but still tender and "aldente".  ( Or when a fork poked in moves rather gently through them.)  Turn the heat off, add the peas and cover and let stand for another 7-10 minutes.  Strain the potatoes and peas and place in a medium mixing bowl.  Add the cilantro and the olive oil and toss together gently, until all of the potatoes are coated with the oil and cilantro.  Serve with a drizzle of fresh harrisa and a pinch of smoked salt.
Yuerba Buena Harissa
Makes 2 cups
Ingredients
1 red bell pepper, roasted, peeled and deseeded
3 (hot) red chilies, roasted, peeled and deseeded
2 teaspoons cumin seeds, toasted
1 teaspoon coriander seeds, toasted
2 teaspoons rainbow, black or pink peppercorns, toasted
2 teaspoons smoked paprika
3 garlic cloves
1 tablespoon lime zest
3 tablespoons lime juice
2 teaspoons salt
2 Â tablespoons olive oil
3 Â tablespoons fresh mint leaves
Directions
Place all ingredients in a blender and blend until smooth and spices are broken apart and the sauce is silky.  Can be stored in the refrigerator for up to 3 weeks.