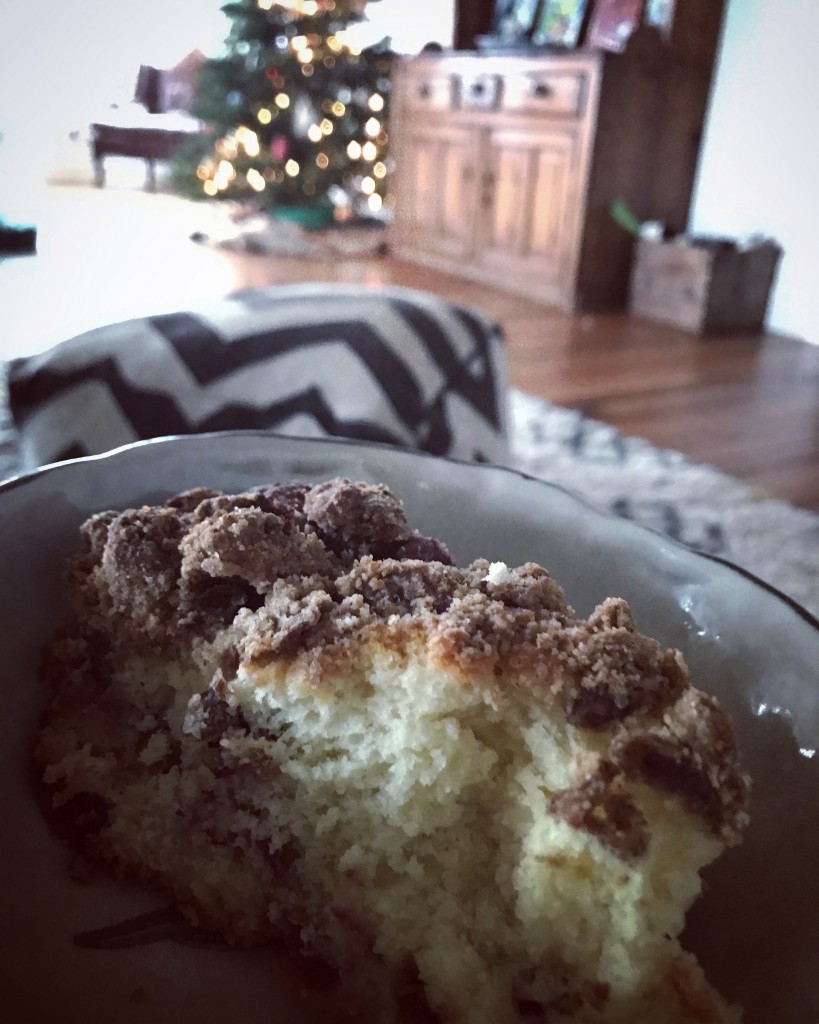 Makes 1 large round cake
Ingredients
For the crumb
1 cup all-purpose flour
½ cup brown sugar
1 teaspoon ground cinnamon
½ teaspoon ground cardamom
½ teaspoon ground nutmeg
½ teaspoon ground black pepper
¼ teaspoon salt
¾ cup chopped nuts (ideally pecans)
1 stick (8 tablespoons) butter, melted
2 large pears, cored and cubed bite size
For the cake
2 ½ cups all-purpose flour
2 teaspoons baking powder
½ teaspoon baking soda
½ teaspoon salt
¼ teaspoon ground cardamom
1 stick (8 tablespoons) butter, room temperature
1 cup sugar
2 eggs
1 teaspoon vanilla extract
1 cup sour cream
½ cup plain vanilla yogurt
1  ½ cups fresh cranberries
Directions
Pre-heat over to 360°F. Butter/grease a large round cake pan or ceramic pie dish (about 9 inches).
The crumb topping
Mix together flour, sugar, spices, nuts.  Slowly mix in melted butter  and mix until a crumbly mixture is formed. Gently mix in the pears.
The cake
Whisk together the flour, baking powder and soda, cardamom and salt.
In a stand mixer with a paddle attachment or large bowl, cream the butter and sugar until smooth and fluffy. Add the eggs  and vanilla and mix another few minutes until the eggs are incorporated and the mixture is smooth.
Slowly mix in the flour mixture and then the sour cream and yogurt and mix until all of the lumps from the flour are gone and light and fluffy batter is formed.
Fold the cranberries into the batter, gently.
Spoon half the batter into the prepared dish and spread evenly. Sprinkle half the crumb mixture over the top of the batter and then spoon the rest of the batter on top, making sure its even.  Toss the remaining crumb mixture evenly over the top and place the cake in the oven.
The cake will need to cook for about 1 ½ hours until the crumb is golden brown and a toothpick inserted in the center of the cake comes out clean. Begin to check on the cake at the 60 minute mark and cover the top with foil if the crumb mixture is browning too much before the cake is fully cooked.
Let the cake cool almost completely before serving, its good warm!