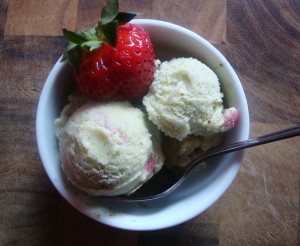 Makes ½ gallon
Early summers on the east coast surprise us with fresh sorrel and this wonderful herb is certainly undervalued and appreciated. Here we take two of early summer's best wonders and put them together in a perfectly grassy, tart and sensuous way, creating a pathway towards craving more sorrel in your life.
Ingredients
2 cups whole milk
1 cup fresh sorrel leaves, chopped (no stems)
½ cup sugar
4 egg yolks
1 cup heavy cream
Salt
1 cup fresh strawberries, chopped small and frozen
Directions
In a medium sauce pan combine milk, sugar and sorrel leaves and bring to a boil, reduce heat and let simmer for about 5 minutes allowing sorrel to infuse, take off heat and allow to cool. Transfer mixture to a blender and blend until very smooth in texture. Transfer back to the saucepan and heat to medium again, whisk in egg yolks making sure that the mixture stays smooth and creamy and that it does not boil. Take off heat add a pinch of salt and whisk in heavy cream until combined. Chill the mixture for a few hours in the refrigerator and then follow the instructions for your ice cream maker adding the frozen strawberries during the freezing portion so that that are frozen while entering into freezing ice cream. The idea is that the strawberries do not bleed and stay in place and add tot eh bright green color of the sorrel mixture.
*note, chop the strawberries first and freeze on a large sheet tray and avoid touching, can be frozen ahead of time and after freezing placed in a zip lock bag toughing, this will make them easier to drop into the ice cream while freezing.