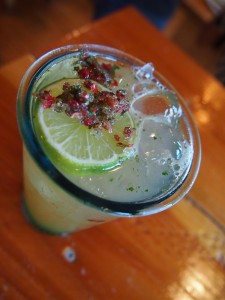 Ingredients
2 ounces tequila reposado (Centenario Rosangel)
1 ounce Rhubarb Pink Peppercorn Syrup*
1 ounce lime juice
Seltzer
½ ounce Sweet Cilantro Syrup*
Lime wheel
Pink Peppercorn Cilantro Sugar*
Rhubarb Bitters
Directions
In a shaker filled with ice, combine the tequila, rhubarb syrup and lime juice and shake vigorously.  Strain into a highball glass filled with ice and fill with seltzer, leaving about ¼ inch of room at the top.  Pour the sweet cilantro syrup on the surface and a lime wheel on top.  Sprinkle a little Pink Peppercorn Sugar on top of the lime and add a few drops of rhubarb bitters on top.
*Rhubarb Pink Peppercorn Syrup- Combine 2 cups chopped rhubarb in a sauce pan with 1 cup sugar, 1½ cup water, 2 tablespoons crushed pink peppercorns, and a handful of cilantro stems.    Bring to a boil and simmer for about 10 minutes.  Take off heat, strain and cool completely.
*Sweet Cilantro Syrup-In a blender blend ½ cup simple syrup, the juice and zest of 2 limes and 1 cup cilantro leaves to form a pesto-like, smooth substance.
*Pink Peppercorn Cilantro Sugar-In a small bowl, mix 1 tablespoon pink peppercorns (crushed), 2 tablespoons cilantro leaves, and 2 teaspoons lime zest with ¼ cup turbinado sugar and mix well.  Incorporate a little rhubarb bitters or lime juice to slightly moisten the mixture.