Serves 6
Ingredients
½  teaspoon coriander seeds
1 teaspoon rainbow pepper corns
1 teaspoon cumin seeds
1-2 cups red cherry tomatoes, halved
4 cloves garlic, chopped course
1 medium shallot, chopped fine
2 teaspoons smoked paprika ( Turkish variety if you can get your hands on it!)2 teaspoons salt
2 tablespoons olive oil
2 cups red lentils
2 cups water
3 cups vegetable broth
Salt to taste
Yogurt
Fire Hot Yemini Zhug (recipe follows)
Directions
Heat oven to 400 ° F.  In a small thin bottomed pan on medium heat, toast the spices until they start to pop and char slightly, making sure to shake the pan and flip the seeds/spices so they don't burn and stick.  The process should take about 1 minute in total.  Using a mortar and pestle grind the spices into a course mixture, like course pepper.  If you do not have a mortar and pestle you can use a flat bowl  on a wooden cutting board to push down and crack, sliding the bowl over the seeds until they care crushed.  In a medium mixing bowl combine the tomatoes, garlic, and shallots and sprinkle the spice mixture over the top.  Add in the smoked paprika and the salt and stir.  Drizzle with olive oil and toss until all the tomatoes are well coated in the spices and oil.  Roast in the oven for about 20 minutes or until cooked and slightly charred on the edges.
In a heavy bottom pan combine the lentils and the water and cook on medium high heat until most the water is absorbed and the lentils begin to soften.  Add a little salt, the roasted tomatoes, making sure to get all the scraping from the roasting pan,  and the vegetable broth and reduce heat to simmer.  Simmer for about 20 minutes, making sure to add more water if the soup begins to get too thick.  Take off heat and let sit for about 30 minutes before re-heating to serve, again adding more water before re-heating if the soup is to thick.  Serve garnished with a yogurt dollop and zhug sauce drizzled over the top.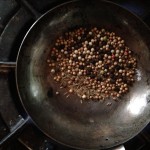 FIRE HOT Yemini Zhug
Makes 2 cups
Ingredients
½  teaspoon coriander seeds
1 teaspoon rainbow pepper corns
1 cardamom pod, cracked
1 teaspoon cumin seeds
½  teaspoon caraway seeds
3 cloves garlic2 cups cilantro leaves
4 -6 hot green chilies, chopped (any type is fine- Serrano, jalapeño, cayenne a combination of them all is best)
½ cup olive oil
½ teaspoon lemon zest
1 teaspoon lemon juice
Directions
Place all the ingredients in a blender and blend until smooth.  An emersion blender can also be used.  Store in the refrigerator for up to three weeks.  Use on eggs, meats, fish and vegetables.