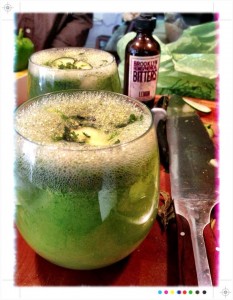 Makes 1 pitcher
Ingredients
1 cup Serrano simple syrup*
2 cup waters
3 cucumbers, peeled and chopped
1/2 Â cup lime juice
2 tablespoons mint
Zest of 2 limes
Pinch of salt
Ice
1 ½ -2 cups Farmers Organic Gin
Cucumber Slice Garnish
Minted Lime Salt Garnish ( optional)*
Directions
Place the simple syrup, cucumbers, zest, mint, water and pinch of salt in a blender and blend until smooth. Strain and chill.  Pour into a pitcher filled with ice and add gin. Stir.  Pour into glasses ( with or without Minted Lime Salt rims and garnish with a cucumber slice.
*Serrano Simple Syrup- combine 3/4  cup sugar with 1 cup of  hot water  in a blender, add the zest of 1 lime and 2 chopped Serrano peppers. Blend the mixture and chill.
*Minted Lime Salt– combine 1 tablespoon of maldon salt with 1 tablespoon fresh, finely chopped mint and 1 teaspoon of lime zest, moisten with a little lemon bitters or lime juice and mix well.