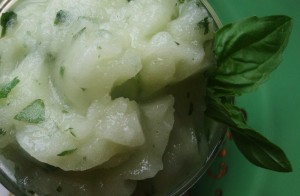 Serves 4-6
A simply luscious and elegant way to enjoy summer melons, without much fuss and clean up! Many herbs pair well with melons and you can try this herb melon combo with most melons. Here are a few Ger-Nis house favorites; watermelon and mint, cantaloupe and thyme, or even Crenshaw and opal or red basil.
Ingredients
2 cups honeydew melon, cubed in 1 inch cubes and frozen solid overnight
1 cup simple syrup (infused with basil a plus)
½ cup fresh basil leaves, chopped fine
Directions
Place all ingredients in a blender and blend until smooth and icy, be careful not to over blend as the frozen honey dew will melt quickly. Make sure you chop the basil fine before placing in blender to avoid needing to over blend. Serve immediately, garnish with a basil leaf.