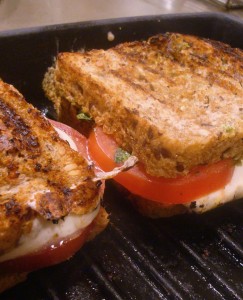 Serves 6
Ingredients
Whole-wheat bread
Fresh mozzarella slices
Tomato slices
Salt
Basil sauce (recipe follows)
Olive oil
Directions
Place basil sauce on each side of the bread slices and on the basil sauce place sliced mozzarella and tomato, season with a little salt.
Combine the slices to form a sandwich and brunch the top side with olive oil. In a panini pan or cast iron pan on high heat, place the olive oil side of the sandwich down on the pan. Using the heavy panini press top press down to flatten. Cook on each side for about 3 minutes or until browned and toasty.
Basil Sauce
Makes 1 cup
Ingredients
1 cup basil leaves
2 cloves garlic
1 teaspoon salt
½ cup olive oil
Directions
Mix the ingredients up in a blender until smooth.